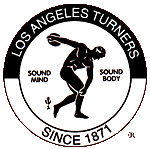 About Us
The Los Angeles Turners, a 501 (c) 3 corporation, founded by German immigrants in the 19th century, has been active in Los Angeles since 1871. Our more than 140 year old mission, A Sound Mind in a Sound Body, inviting participation in activities that enhance the quality of life in an atmosphere of fun, sport and learning as well as benefiting others by sharing prosperity, compassion, culture and friendship.
While Los Angeles' population was only about 6,000 in 1871, there were already two like-minded Organizations; the Los Angeles Turnverein and the Teutonia-Concordia Turn- und Singverein (which was already founded in 1859). In 1871 these two groups merged, forming what would eventually be called Los Angeles Turners, who is a member of the nationwide American Turners and also of the German-American League in Los Angeles.
The "Turner Center" in Westchester, on Los Angeles' West Side, was until 2016 home to our members who participate in social and cultural events, dance evenings, fitness classes, and movie/sports viewing. Fencing, a traditional Turner sport, has a squad that rehearses off-site. The Los Angeles Turners community outreach supports in cooperation with California Outreach Organization worthy causes that reach from schools and universities to feeding the needy.
The History of the Los Angeles Turners and Turners in America is currently being re-cataloged for easy viewing and will be updated on the website soon.
Information about the American Turners
and additional Links
Archived Newsletters of the Los Angeles Turners